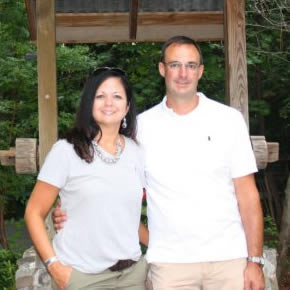 Chris is originally from Pageland, SC and moved to Murrells Inlet shortly after graduating from high school. He attended Coastal Carolina University and spent 20 years in the wireless industry as an IT technician and manager. Now it's time to embark on a new journey that doesn't include performance reviews and impending mergers.
Kim was born on the west coast but moved to South Carolina at an early age. She graduated from Sumter High School and eventually moved to Garden City. She loves spending time with her family and loves arts of all kinds. She loves visiting boutiques, local festivals, and anything that provides her the opportunity to take pictures.
Our focus in starting Paint and Unwined is to build a business that the whole family can contribute to. It is thrilling to have something that we can relate to and explore. Our children attend art camps and we have bins upon bins of art and projects that we will always cherish. We don't know where this journey will take us, but we hope that you are a part of it and visit us often.
We look forward to meeting you at the studio and seeing your first masterpiece!
Chris and Kim Broome